various info
https://endless-sphere.com/forums/viewtopic.php?f=3&t=46608
Re: Torque-Sensor Motor w/ Sine-Wave Controller Build

by
adrian_sm
» Sat Oct 05, 2013 8:01 pm
crossbreak wrote:yes they can. But they cannot switch back to sensorless if halls fail. X8M06 can do that.
Just tested a KV195, ~10µH inductance 80cc Rotomax BLDC on the S06P. Does only turn very slowly adn says Error06 after a few seconds. Tested it with a 6Fet X8M06 / KU65, turns till ~660Hz or 40.000 e-rpm but has start-up hassle. Still X8M06 are the best choice e-bike controllers for low inductance motors IMO, at least better than Infineon and the S-Series.
A KV100 motor with 200µH (15 turn N6364 motor) works fine on both S06P and KU65. Could not test the max e-rpm of the S06P. since I have no motor at hand that spins >40.000 e-rpm, except the Rotomax. But this is proof that it does at least 40.000. The S06P has smother start up, but says Error06 if there is only little resistance.
Just ran the S06P & KU65 on my dyno.
S06P had similar Error6 errors every so often with both SK36364-190kv & SK36364-168kv motors, both on the road and on the dyno.
Both controllers heat up a fair bit when they had to current limit.
Here are some images of the phase voltages under a light load, at full throttle, and partial throttle with the S06P.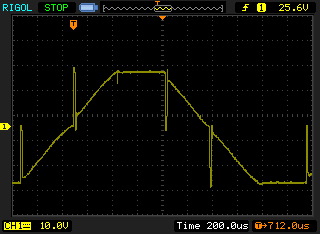 s06p - full throttle.bmp (146.3 KiB) Viewed 3759 times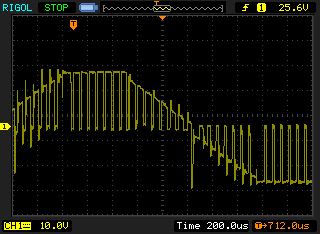 s06p_partial_throttle.bmp (146.3 KiB) Viewed 3759 times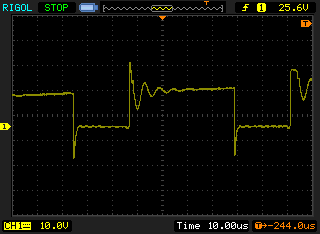 s06p_partial_throttle_close_up.bmp (146.3 KiB) Viewed 3759 times
---
The sine-wave controller is rated at 10-20 amps and is running in sensored mode. It is able to hold a steady speed as low as 3 rpm and smoothly ramps up to no-load speed. It is interesting that there is an audible change at around 130 rpm where it seems that the commutation shifts into a different mode.